Chart Plotters have come a long way since Furuno developed the world's first Video Plotter in 1979. No electronic charts were available at that time, and location and Track were displayed on a simple vector grid. Today's helm is a technological marvel compared to the helms of the past. Only your Chart Plotter, though, can show you cartographically where you are, where you've been, and where you're headed.
Navigate with confidence, let Furuno chart your course!
From sail boats and center consoles to workboats and cruise ships, Furuno has GPS Chart Plotters for every need and every situation.
A Chart Plotter serves many useful functions on your boat
Your Chart Plotter serves a number of useful functions on your boat. It allows you, the navigator, to:
Know your current location at a glance
Show obstructions, buoys, navigation lanes and other ATN (Aids To Navigation)
Show Bathymetry (water depth) for a given location
Save Waypoints for important locations so you can navigate back to them at any time
Plan out your voyage and save your Routes
Steer your Autopilot
Save and view your Track
Instantly record MOB (Man Overboard) location
Record travel time and plot ETA to destination
Find specific POI (Point Of Interest), such as harbors and fueling stations
View tidal and current forecasts
Raster Charts, your digital photographs
Raster charts are simply scanned paper charts that have been digitized for use on an electronic Chart Plotter. Think of these as digital photographs of the actual paper charts - for, this is exactly what they are! Raster charts maintain the look and feel of paper charts you may already be familiar with, and many boaters have decided that these are the charts they prefer simply because of this familiarity.
Vector Charts, the digital cousin of Raster Charts
Vector charts are a digital representation of the information found on paper charts. Think of Vector charts as a database of information that your Chart Plotter's software uses to draw the chart on the screen. Coastlines, shipping lanes, buoys, wrecks and other obstructions, even spot soundings - all of this information is stored in the machine not as an image or map, but only as mathematical data that your Chart Plotter can access to draw a picture of your chart. Vector charts typically contain more data than a Raster chart, and this data is organized in individual 'layers' which can be turned on or off, allowing you to display as much or as little information as you desire.
Paint the sea floor contours with Bathymetric Fishing Charts
Bathymetric, or 'Fishing' Charts, depict the contour of the sea floor. These charts are designed to present an accurate, measurable description and visual presentation of the submerged terrain. These charts provide the commercial and recreational fisherman with a powerful tool to enhance your catch. Bathymetric charts differ from navigation charts in that the presentation of underwater features is their primary purpose. Safe navigation is the primary purpose of a navigation chart.
Navigate with color for at-a-glance awareness
Nearly all Furuno Chart Plotters can show depth shading - that is, color shades overlaid on the chart that reflect the depth of the charted area. Using Depth Shading, you can easily tell where the shallows end and the deeper, safer-to-navigate waters begin. Depth Shading can be customized so that preset depths are shaded in colors of your choice.
Layered information brings more useful data to your charts
When it comes to information overlay, look no further than Furuno's NavNet MFDs. The TimeZero engine that drives these systems allows for an unprecedented level of customization when it comes to expanding the display presentation. Of course, Depth Shading and Satellite Photo Overlay are standard fare these days. TimeZero, though, presents this information in an entirely new way that we call Satellite Photo Fusion. Satellite Photo Fusion allows you to overlay the Satellite photography onto your chart, but the photo will only shows in areas where there is a charted depth of zero - that is, land masses. From there, the photo becomes less opaque as the water depth increases, allowing you to see the chart information where you need it without being obscured by the photo image. The result is the smooth, attractive transition from sat photo to chart.
You can also overlay your Radar targets onto the chart to make it even easier to understand what you are looking at around your boat. Simply add a heading sensor and you will be able to easily line up and overlay the Radar targets, and they will automatically scale up or down as you zoom in and out of your chart.
Popular Furuno Models
Furuno GP1871F
7" Multi Touch GPS/WAAS Chart Plotter with CHIRP and Conventional Fish Finder
Multi Touch Interface
The all-glass, multi touch display gives you access to every feature via convenient and intuitive slide-out menus. Slide your finger down from the top of the display to select Quick Pages, including your favorite custom display modes, with a single tap. Slide out from the left to view customized Data Boxes. Slide up from the bottom to quickly adjust your layer settings. Finally, slide your finger out from the right side to instantly access the menu functions you use the most. Tap or double tab the display with two fingers to capture a screen shot or perform other customized functions. Everything in the menu is intuitive and contextual, so the content relates to the current display mode.
Built-In CHIRP and Conventional Fish Finders
The unit includes a built-in TruEcho CHIRP, as well as a conventional Fish Finder, transmitting at 300W, 600W or 1kW. Simply tell the unit what transducer you are using and it will select the type of Fish Finder to use. The TruEcho CHIRP transmits across a spectrum of frequencies, delivering an incredible amount of detail and clearly marking individual game fish and bait fish. The conventional Fish Finder includes RezBoost data processing for an ultra-crisp, high-resolution picture. Other features include ACCU-FISH fish size assessment, and the highly useful Bottom Discrimination function to help you find the most productive fishing grounds.
Wireless Radar Connectivity
Radar can be overlayed onto the Chart Plotter display via wireless connection to the Furuno DRS4W 1st Watch Wireless Radar. The DRS4W's wireless configuration makes it a breeze to add the compact 19" Radar dome to any vessel. The DRS4W can also display the Radar presentation on a connected smart phone or tablet, offering a major upgrade in safety and versatility.
Autopilot Control
Via the CAN bus network interface, The NAVpilot 300 and NAVpilot 711C can be connected to the GP1871F and GP1971F and controlled directly from the Chart Plotter.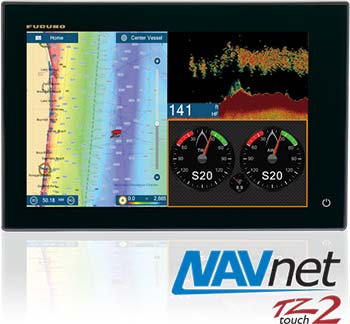 Furuno TZTL12F
NavNet TZtouch2 Chart Plotter/Fish Finder, 12" Touch Screen Display
Total Control, simply refined
With a sleek all-glass front, refined graphical user interface, built-in RezBoost Fish Finder, and an internal GPS antenna, NavNet TZtouch2 is a beauty to behold and use. Whether you are searching for hot fishing grounds, plotting your next route, or using your Radar to navigate through fog, TZtouch2 delivers smooth operation with familiar touch gestures. Sporting and edge-to-edge glass front, NavNet TZtouch2 is beautifully designed, allowing you to build a navigation suite that is not only functional, but offers a luxurious look and feel.
Simply refined, simply beautiful
Following in the footsteps of the original NavNet TZtouch, TZtouch2 features a refined user interface that is all about usability. Elegantly designed, NavNet TZtouch2 allows you to build a navigation suite that is not only functional, but offers a luxurious look and feel. Taps, swipes, pinches, and custom multi touch gestures are instantly transformed into action, giving you full control of every component connected to your network.
Incredibly easy-to-use graphical user interface
The NavNet TZtouch2's Multi Touch graphical user interface sets a new benchmark for "easy to use" in the marine electronics industry. This interface is not only intuitive, but is as easy to use as the phone in your pocket. With taps, slides and swipes, you will be up and using your TZtouch2 in no time at all. Menus and other features slide out from each of the sides of the screen, ensuring that the most important tasks are literally right at your fingertips.
Powerful Fish Finder with built-in Furuno features
The built-in Fish Finder is a dual-frequency (50/200kHz), 600W/1kW power output sounder. It includes Furuno's unique Bottom Discrimination and AccuFish modes, and also incorporates another new Furuno proprietary Fish Finder technology, called RezBoost. RezBoost is a revolutionary new feature that utilizes Furuno's exclusive digital signal processing protocol to produce fantastic target resolution and separation, without the need to change out your transducer, or purchase expensive broadband transducers. With RezBoost, you can now achieve target separation and resolution that was previously limited to Furuno commercial-grade Fish Finders.
Freedom to build the helm of your dreams
NavNet TZtouch2 is a component-based system that utilizes Furuno's award winning network products. You can add a variety of UHD Radars, from a 4kW NXT Dome up to a 25kW X-Class Open Array. As with NavNet TZtouch, you can integrate, display, and control the NavPilot Autopilot, and Furuno's FI70 Instrument. Both of these products have displays that match TZtouch2, giving your helm a beautiful all-glass finish. Additional sensors that can be added to the network include AIS, Weather Fax, Sirius/XM Satellite Weather, Fusion Marine Stereo, and IP Cameras, as well as NMEA2000 and Furuno CAN bus devices. It even includes one NMEA0183 output port to send data to legacy systems.
Remotely view and control your bridge with apps for your smartphone and tablet
Engineered to utilize the latest technology, NavNet TZtouch opens the door to cutting edge WiFi features, such as tablet and smartphone apps, points of interest (POI), real time weather data, software updates and more. Take full control of your NavNet in a whole new way. The TZtouch Remote app allows you to operate your system remotely with your smartphone or tablet over WiFi, when connected to the network.
MapMedia Raster and Vector Chart Library
Freely choose the charts that fit your individual needs and preference. MapMedia's NOAA Raster and Vector charts for the U.S. Coasts, Gulf of Mexico, Alaska and Hawaii come pre-loaded. In addition, MapMedia brings you free satellite photos and detailed fishing bathymetric charts that can be download for the U.S. Outside of the U.S., "C-MAP" and "Datacore by Navionics" vector cartography can be purchased and downloaded to your NavNet with ease. MapMedia cartography integrates cutting edge algorithms with high resolution image processing techniques to deliver a fusion of digital navigation charts and satellite photography.
Satellite PhotoFusion™ offers a birds-eye view without obstruction of critical data
You can load any two ultra-wide high-resolution satellite photo areas at your convenience. Land areas (zero depth) are completely opaque, so these areas are displayed as high-resolution satellite photos on the chart. As the depth increases, the satellite photography becomes more transparent. This allows you to see where the shallows end and the deeper water begins, while still allowing the raster or vector chart to be visible.
Free & easy-to-use marine weather forecasts
The weather tool is completely free and easy to use, giving you unlimited access to weather forecasts worldwide 24 hours a day provided by NavCenter. Select geographic coverage, data type, period of time, and then choose how to receive the file. NavNet TZtouch2 provides up to 16 days of weather forecasting.
We can customize a GPD and Chart Plotter solutions to fit your exact needs. Furuno has a lot of marine GPS and Chart Plotter systems available. Please contact our marine electronics department to discuss your needs.